Newly diagnosed with ulcerative colitis?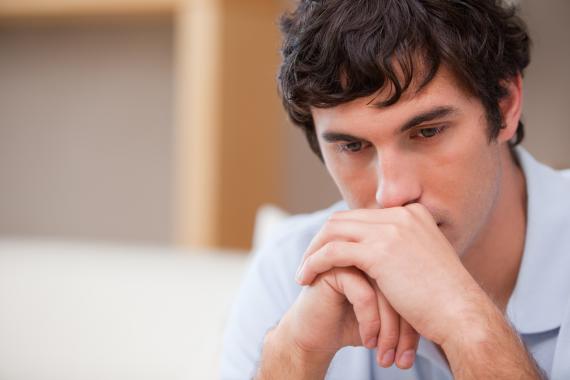 If you've recently been diagnosed with UC, one of the most important things you can do is to understand your condition and work with your medical team to make the right treatment decisions. Not only will this help you feel more in control of your symptoms, but it's also been shown that patients who have the knowledge, skills and confidence to manage their own condition have better outcomes and lower rates of hospitalisation.1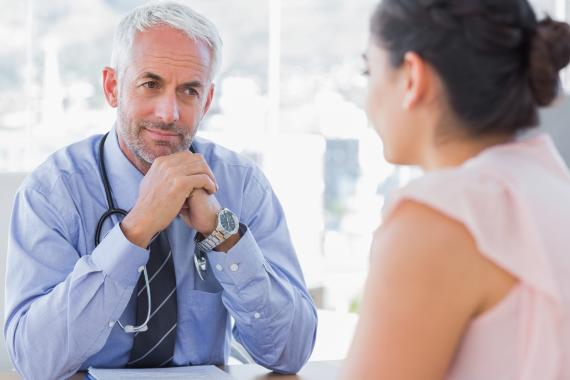 According to the World Health Organization, what people do in their everyday lives – the type of food they eat, how much they exercise and how far they follow medical advice – largely determines their health and their need for health care.1;And a recent study carried out by the King's fund found that "individuals with long-term conditions who are more highly activated* are more likely to engage in positive health behaviours and to manage their health conditions more effectively."1
So here are a few facts about UC that can help you feel more in control. More information is available here.
Be prepared – UC can be unpredictable
UC can have periods of remission, when symptoms improve. These can last months or even years before things become worse again. Doctors describe this as a 'relapsing-remitting' pattern. According to figures published by the Crohn's & Colitis Foundation of America, in any one year:
48% of patients with UC are in remission
30% have mild disease activity
20% have moderate disease activity
1-2% have severe disease2
And the longer you are in remission, the less likely you are to experience a flare-up in the following year.2 Fortunately deaths as a direct result of UC are extremely rare.
Although UC is a life-long (chronic) disease, many people find that having medical treatment, along with making some necessary lifestyle changes means they can enjoy a good quality of life.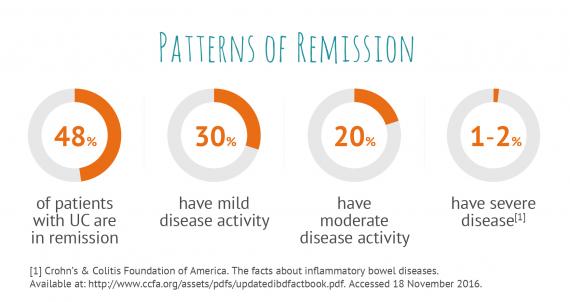 You have treatment options – surgery may be one of them
Although UC is usually well managed with drugs, and these treatments have improved over the years3, you may decide to have surgery if your condition isn't improving, or if your UC is frequently relapsing and affecting the quality of your life.4 Surgery may be necessary for other reasons too.
Having surgery can 'cure' UC
UC is, in effect 'cured' by having surgery and should mean relief from pain and symptoms such as urgency or diarrheoa.3 Many people who have had surgery feel that, in general, they enjoy a better quality of life than before surgery. 3
As well as being well informed about your UC, some people find that it can help to:
Design a self-management plan
The objective of this type of plan is to help you get on top of your condition and maintain the quality of your life. Ultimately it can help you to manage your condition more successfully.
A self-management plan can be used to:
Identify your particular healthcare needs. This can include ways to help you manage stress/anxiety. Researchers have found a link between flare-ups and stress and that stress can make IBD worse.5 So if you can find ways to manage stress not only will you feel better, you may also reduce the risk of a flare-up
Set personal goals and action plans (e.g. the steps you need to take to achieve these goals)
Identify any barriers to achieving these goals and how these might be overcome
Identify the support you'll need
Be the one place where you keep your healthcare records and monitor your own condition. Here you can note your daily symptoms, treatments/medications; appointments with your healthcare professionals and the advice they offer
Ensure everyone involved in your care knows which inflammatory bowel disease (IBD) services are provided by your own doctor/GP; which services are provided as an outpatient at hospital; and those offered by a dietician. In other words, the plan can help coordinate your care.
Help you think about, and then commit to, feeling more in control of your UC
Ask your doctor or IBD nurse if they can help you with this plan – it can sit alongside your treatment plan.
Building a support network and talking about your condition
It's good to talk. Talking to your friends and family about your UC can help them identify ways they can help you.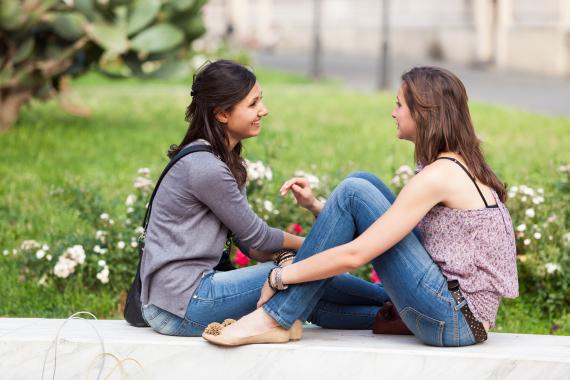 Your own doctor and inflammatory bowel disease team – including the specialist nurses – are important people in your network. Keeping your appointments and being open and honest with them about how you're feeling will help them to help you.
There are also many IBD patient organisations, support groups and online social communities. Your doctor or IBD nurse specialist may be able to help you find local groups, counselling and trusted online sources of information and support. Some patient organisations also offer a confidential listening service and access to trained counsellors.
1Kings Fund. Supporting People to manage their health. Available at:
https://www.kingsfund.org.uk/sites/files/kf/field_publication_file/supporting-people-manage-health-patient-activation-may14.pdf